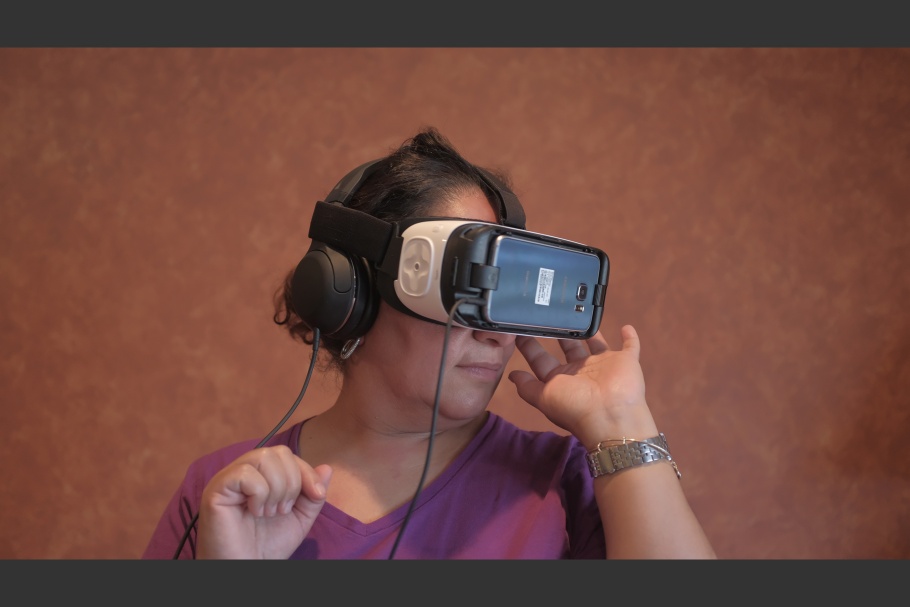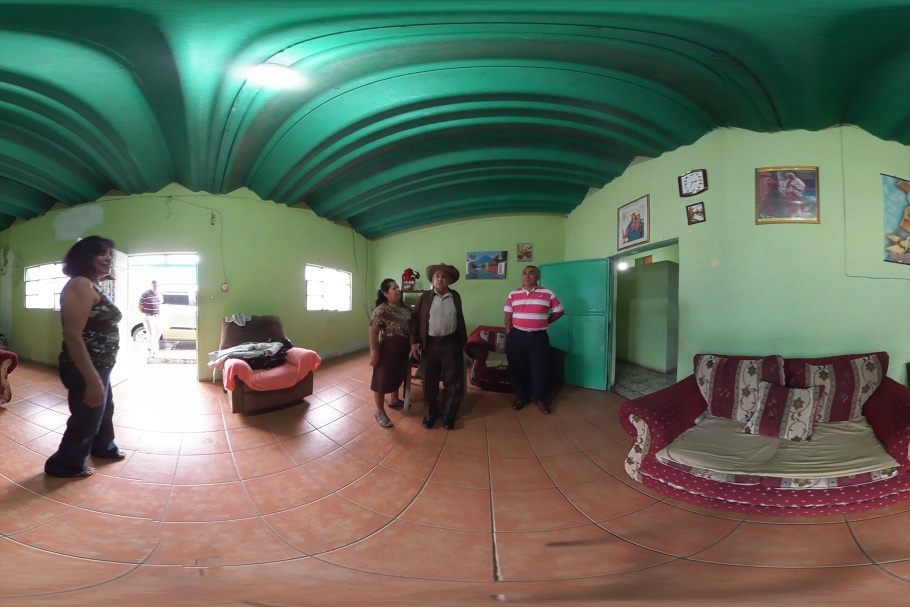 FRPxTN is a collaboration between the Family Reunions Project and Tierra Narrative, led by Kenia R. Guillen, Génesis Mancheren Abaj, Alvaro Morales, and Frisly Soberanis. The Family Reunions Project is an initiative putting virtual reality to work for undocumented communities. Through 360-degree video and room-scale virtual reality experiences, the project gives those who are unable to travel a visceral connection to home. Tierra Narrative is a multimedia storytelling platform and production house dedicated to the creation of new narratives by collaborating with and connecting the Central American diaspora to their homelands. Keeping the community always at the center of the work, Tierra Narrative produces content and programming with Central American artists, organizers, and cultural producers.
Kenia R. Guillen (b. 1994, El Salvador; lives in the United States) is a visual artist and filmmaker who uses multimedia to narrate personal stories. Having migrated from rural El Salvador to the suburbs of New York, her work is heavily influenced by the need to heal migrants' sudden separation from family, community, and the natural environment of their homeland. Interested in immortalizing personal and collective memories, Guillen is currently writing and directing diasporic cinema that speaks to the ordinary, uneventful, everyday lives of Central Americans living in Long Island, New York. She is also a co-founder and curator for Tierra Narrative.
Génesis Mancheren Abaj (b. 1992, Guatemala; lives in the United States) is a Maya Kaqchikel artist from Queens, New York, and B'oko', Guatemala, whose work includes writing, producing, editing, and acting She is an alumna of New York University and Columbia University's Graduate School of Journalism, where she studied creative writing and documentary film respectively. She is one of three organizers of the inaugural Indigenous Creatives Festival organized by the American Indian Community House in 2018, and is a co-founder and writer for Tierra Narrative.
Alvaro Morales (b. 1992, Peru; lives in the United States) is an immersive media director and producer. Originally from Huancayo, Peru, Morales moved to Virginia nine days shy of turning ten. He is the co-founder and lead of the Family Reunions Project, where he worked with over 12 undocumented families to create personalized 360-video experiences of the families and hometowns to which they cannot return. His current focus is on questioning the needless separation of families: He is directing Home with America, a room-scale virtual reality piece around one of the families that participated in the Family Reunions Project.
Frisly Soberanis (b. 1993, Guatemala; lives in the United States) is a director and video artist based in Queens, New York. He grew up filming quinceañeras and bodas and is now working in new media and film. Soberanis is interested in migration and borders, science fiction, space, masculinity and other gender expressions, and wishes to explore what immigrant experiences might look like in the next 200 years. He loves thunderstorms, family, and chilaquiles (but can't take the heat), and he loves to play video games, especially ones with a great story.
FRPxTN
As migrants, we have always found ways to remain connected to our homelands using any means necessary, from written letters to WhatsApp. These communications provide glimpses into the lives we left behind: the birthdays, the weddings, the births and deaths of loved ones.
The Family Reunions Project continues this tradition by activating virtual reality to connect loved ones separated by transnational borders. The project facilitates the exchange of 360-video experiences between undocumented families in the United States and their families in Central America, enabling them to be virtually immersed in spaces where they cannot physically travel.
Virtual reality isn't a solution to our separation—we are painfully aware that these experiences are not a replacement for a hug, or a handshake. But it does allow us to begin to heal these fractured connections to the places we were forced to leave behind.
As members of Tierra Narrative, an online collective and production house, we collaborated with the Family Reunions Project to produce 360 video experiences for our own families—collecting footage of their land, their homes, and their loved ones. This exhibition features that docu­mentation, which includes environments, stories, and direct messages collected during the project's infancy. By revisiting and repurposing this footage, this exhibition brings to light the emotional and deeply personal experience of family separation.
—FRPxTN, September 2018